0320 / KIDSLINE CRADLE ARM SLING
The OTC 0320 KidsLine cradle arm sling provides well balanced support to the arm, evenly distributing its weight. KidsLine is OTC's family of Pediatric and Youth sized products. They are cut and assembled to follow the same anatomically correct profile as our popular adult versions, but are "right sized" to fit a smaller frame.
• Available in navy (0320NV) or print fabric (0320PP)
• Extra wide shoulder strap for comfort
• Sliding hook buckle is easily adjusted
• Fits right or left arm
• Latex free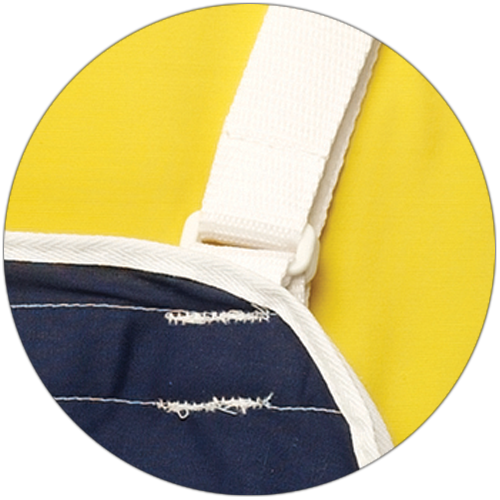 Sliding hook buckle is easily adjusted.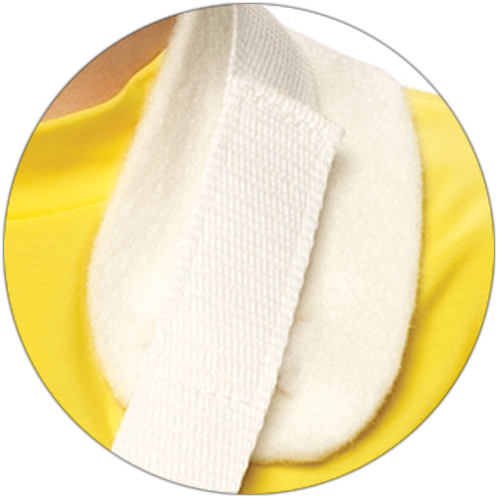 Extra wide shoulder strap for comfort.
How to Measure for and Apply the KIDSLINE CRADLE ARM SLING
| | MEASURE FROM ELBOW TO TIP OF LITTLE FINGER |
| --- | --- |
| INFANT | 3.5" - 5.5" (8.9 - 14 cm) |
| PEDIATRIC | 5" - 8" (12.7 - 20.3 cm) |
| YOUTH | 7" - 10" (17.8 - 25.4 cm) |
A. Measure from elbow to tip of little finger.
1. For best results, the garment should be worn over a piece of clothing. Unfasten all closures and adjustments.
2. Position the arm inside the sling over the ribs so that the elbow is flexed approximately 90 degrees and the top edge of the sling is right below the breast line.
3. Fasten the shoulder strap and adjust for comfort.
4. When properly applied, the arm sling should comfortably cradle the arm and should not interfere with normal respiration.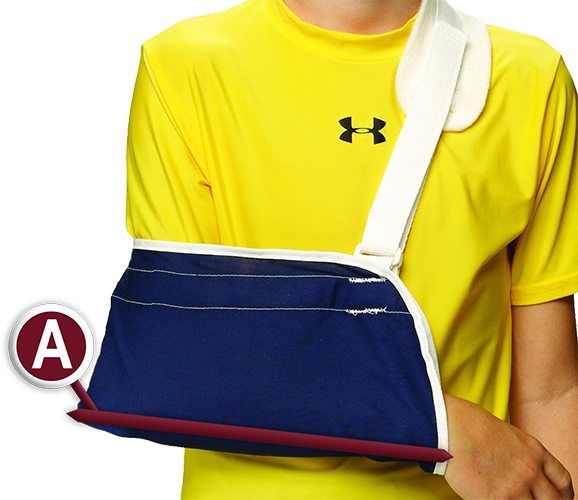 Review the accompanying chart to determine the product that best suits your needs. On the left, you will find a variety of injuries that OTC products are specifically designed to treat and prevent. On the top, you will find the product numbers of all OTC KidsLine products. If a red box is present where the column and row intersect, your injury or condition is treated/prevented by the associated product.
MODEL NUMBER
0316
0317
0318
0320
0321
0322
0323

0324

Sprains and Strains
Osteoarthritis

Chondromalacia

Patellofemoral Tracking

Mild Sprains and Strains
Mild to Moderate Sprains and Strains
Post-cast Support
Tendonitis
Carpal Tunnel Syndrome

For wear post-fracture, sprain or surgery

Minor neck pain or injuries

Reminder against making sudden and painful movements

Relief from muscle tension
Whiplash
To shield a lower extremity cast from moisture
Shock and everyday wear
Common Conditions of the Shoulder

Cycle through the slides below to familiarize yourself with several common conditions associated with the shoulder. The conditions shown below may not be treated by the product listed above. Please view the above Medical Applications Chart to determine what conditions this page's associated product treats.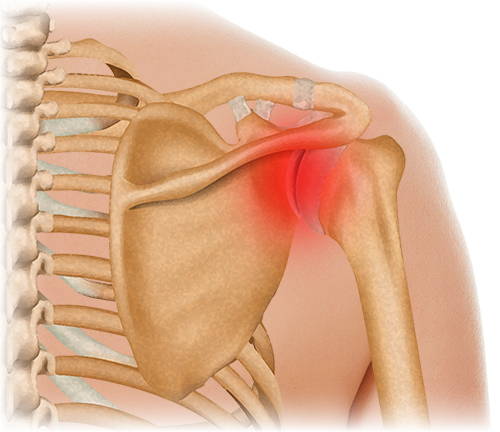 Rotator cuff injury – sprain or strain – is a common source of pain and functional disability. Symptoms can vary from occasional mild shoulder pain with full motion to constant and severe pain with complete loss of function. The rotator cuff can also be subject to tears. The tears themselves are mostly anterior, because this is the weakest point of their tendonous attachments. Treatment varies depending on the degree of the tear. It can range from medication and rest to surgical repair and immobilization by means of a brace or sling.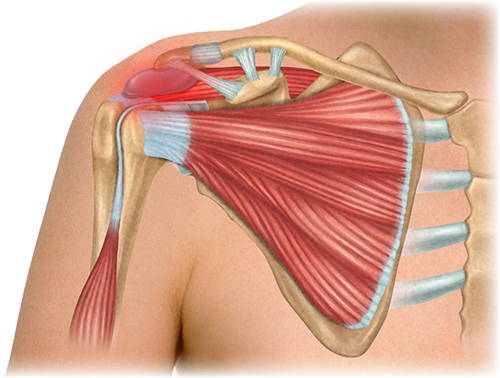 Bursitis the most common cause of pain the shoulder. It is an inflammation that affects the small fluid-filled sacs – bursa – that cushion the bones and soft tissues around the shoulder joint. Bursitis often occurs near joints that perform frequent repetitive motion. Symptoms of shoulder bursitis include pain that accompanies certain movements, pain that interferes with sleep, and shooting pains that extend down the outer edge of the arm. Treatment for shoulder bursitis typically involves anti-inflammatory drugs, application of ice treatment, and resting and immobilization of joint with use of an arm sling or immobilizer.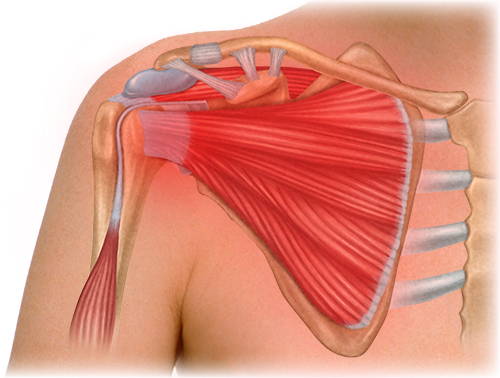 Post-Operative Discomfort
While an arthroscopic surgical repair to the shoulder can usually be accomplished with minimal invasion, there will be an extensive recovery period that can last for many months. The first phase can potentially last up to six weeks following surgery. Frequent application of ice will help reduce swelling. The use of an arm sling will also help with the healing process. Physical therapy might also be indicated. The second phase of recovery will last from six to twelve weeks where a limited range of arm movements will be allowed. The final phase will last from 3 to 6 months during which light but effective exercises are performed to strengthen the muscles in the arm. During this entire process an arm sling or shoulder immobilizer may be used to provide support and comfort.
The Anatomy of the Shoulder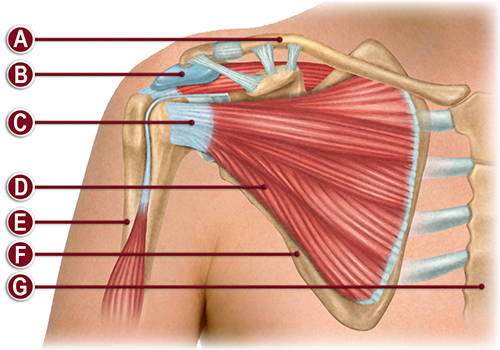 FRONT OF THE right SHOULDER
A. Clavicle
B. Bursa
C. Subscapularis Tendon
D. Subscapularis Muscle
E. Humerus
F. Scapula
G. Sternum
Posterior OF THE right SHOULDER
A. Clavicle
B. Spine of Scapula
C. Rotator Cuff
D. Scapula
E. Humerus
F. Spine