0322 / KIDSLINE WRIST SPLINT - SOFT FOAM
OTC KidsLine brace and supports are cut and assembled to follow the same anatomically correct profile as our popular adult versions, but are "right sized" to fit a smaller frame. KidsLine sizes will fit approximately 95% of children, providing an excellent fit and comfortable support. KidsLine uses high quality, soft materials and hand-crafted construction to provide optimum support, wearing comfort and durability for all-day everyday play - things kids and parents want most.
• Holds the wrist comfortably in a neutral position to promote healing and minimize pain

• Rigid ultra lightweight splint
• Soft lined interior is breathable for wearing comfort
• Easy to slip on and slip off using only one hand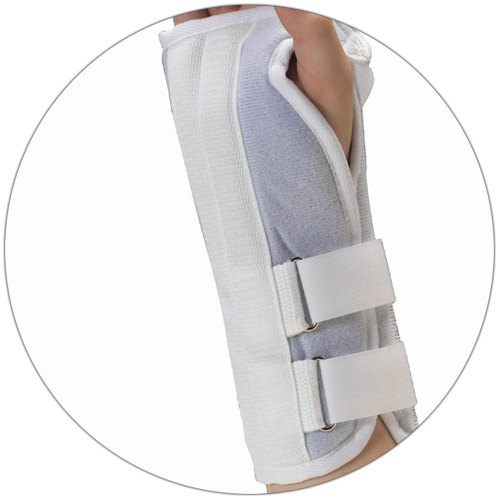 Rigid ultra lightweight splint
Holds the wrist comfortably in a neutral position to promote healing and minimize pain.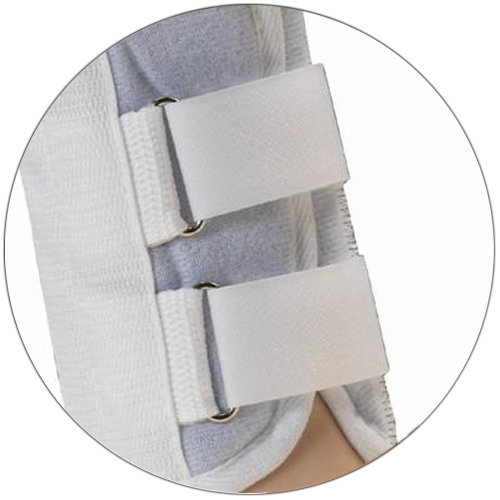 Easy to slip on and slip off using only one hand.
How to Measure for and Apply the KidsLine Wrist Splint
| | MEASURE AROUND THE BREAK OF THE WRIST |
| --- | --- |
| INFANT | UNDER 4.5" (11.4 CM) |
| PEDIATRIC | 4.5" - 5.5" (11.4 - 14 CM) |
| YOUTH | 5.5" - 6.5" (14 - 16.5 |
A. Measure around the break of the wrist.
1. Loosen velcro straps and insert hand into wrist splint.
2. Tighten the velcro straps. When properly applied, the support should fit snug but not so tight that it deeply depresses the skin.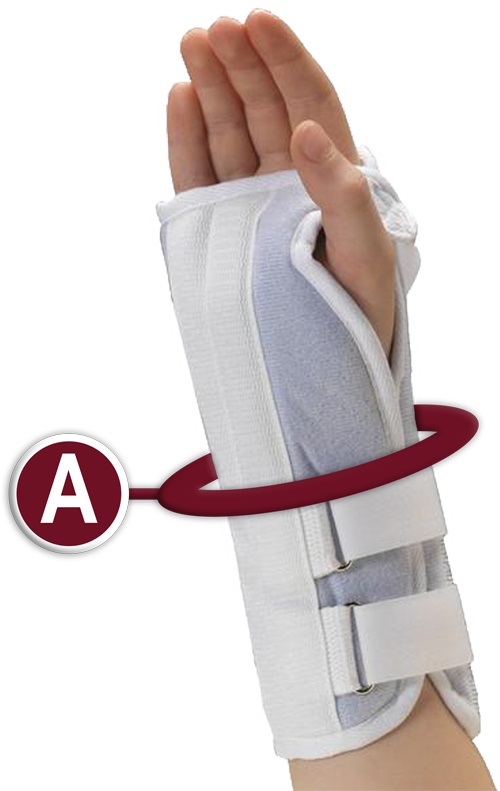 Review the accompanying chart to determine the product that best suits your needs. On the left, you will find a variety of injuries that OTC products are specifically designed to treat and prevent. On the top, you will find the product numbers of all OTC KidsLine Products. If a red box is present where the column and row intersect, your injury or condition is treated/prevented by the associated product.
MODEL NUMBER
0316
0317
0318
0320
0321
0322
0323

0324

Sprains and Strains
Osteoarthritis

Chondromalacia

Patellofemoral Tracking

Mild Sprains and Strains
Mild to Moderate Sprains and Strains
Post-cast Support
Tendonitis
Carpal Tunnel Syndrome

For wear post-fracture, sprain or surgery

Minor neck pain or injuries

Reminder against making sudden and painful movements

Relief from muscle tension
Whiplash
To shield a lower extremity cast from moisture
Shock and everyday wear
SPRAIN AND STRAIN CONDITIONS

These affect the connective tissues around the joints. Sprains are injuries to ligaments.The injury can be considered mild (slight stretching), moderate (partial tear), or severe(complete tearing). One or more ligaments can be injured in a sprain. The severity of the strain will depend on the extent of injury to a single ligament (whether the tear is partial or complete) and the number of ligaments involved.
Wrist supports or braces are applied to support and compress the soft tissues, helping to reduce swelling and relieve pain. They also provide varying degrees of stability to help prevent re-injury. Wrist braces are also an excellent post-operative tool to speed recovery and help maintain necessary activities during recuperation.

The conditions shown below may not be treated by the product listed on this page. Please view the above Medical Applications Chart to determine what conditions this page's associated product treats.

A mild strain can occur for a number of reasons, but is most often caused by a person's weight being applied to a wrist that is at an unnatural angle - eversion or inversion - with the ligament or ligament group being stretched or even torn.


moderate & Severe sprains

A moderate sprain is slight tearing of a ligament or ligament group, while a severe sprain will always be a complete, and usually among a ligament group. Sprains are deemed mild, moderate or severe based on the extent of injury and the number of ligaments.


Carpal tunnel syndrome – or CTS – is repetitive-motion trauma of the hand and wrist. Symptoms of this painful disorder include numbness, tingling, weakness and aching of the hand and arm. The pain of carpal tunnel syndrome arises when the median nerve that passes through the wrist bones – or carpal tunnel – becomes pinched by swollen tendons and membranes. Damage to the nerve is cumulative and, if gone untreated for too long, can result in permanent loss of sensory and motor abilities.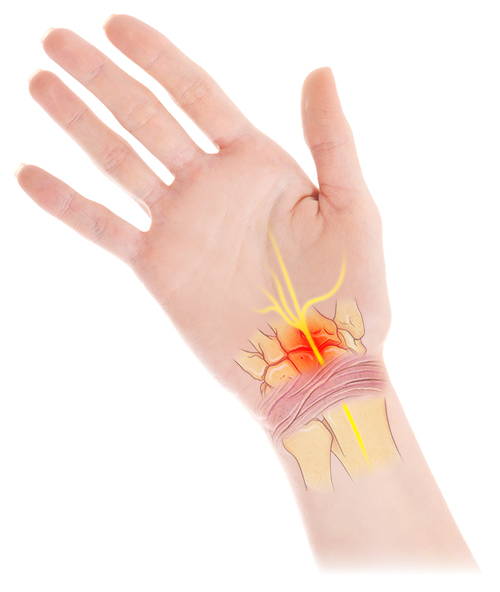 WRIST AND FOREARM ANATOMY
A. Median Nerve
B. Radial Bursa

C. Ulnar Nerve

D. Transverse Carpal Ligament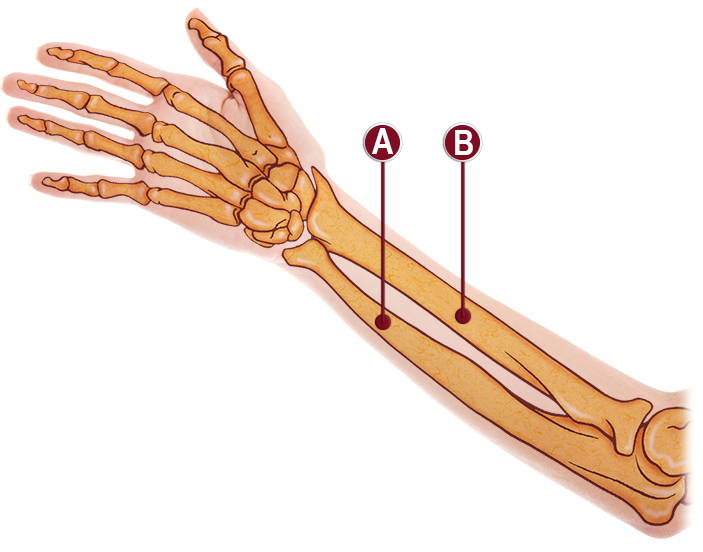 A. Ulna Bone
B. Radius Bone