2505 / NECK TRACTION / CERVICAL TRACTION DEVICE
• Lightweight, compact and easy to install
• Stretches muscles while relieving shoulder and neck pain
• Soft foam head supports eliminate unwanted pressure
• A superior choice for on-the-go therapy session
• Easy to use
• Can be easily wrapped around any doorknob, railing or pole, providing the flexibility to be used virtually everywhere
• Neck sling attaches to two sewn-on double thick elastic straps along with looped attachment strap
• Chronic neck pain
• Stress and tension headaches
• Poor sleep
• Shoulder tension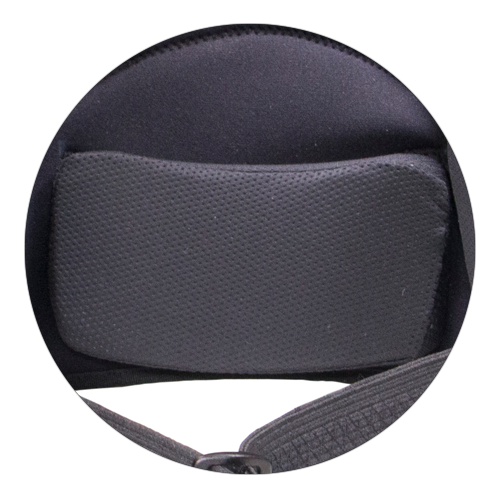 Soft foam head supports eliminate unwanted pressure to the skull, ensuring custom-tailored therapy
Neck sling attaches to two sewn-on double-thick elastic straps along with looped attachment strap
How to Measure for and Apply the TRACTION
1. Wrap the securing strap loop around a door handle.
2. Ensure the head device is at a desired height - ideally 1" from the floor.
3. Lie down and place your head in the device.
4. Relax you head, neck and shoulders. For safety purposes, the use of a door stopper is recommended.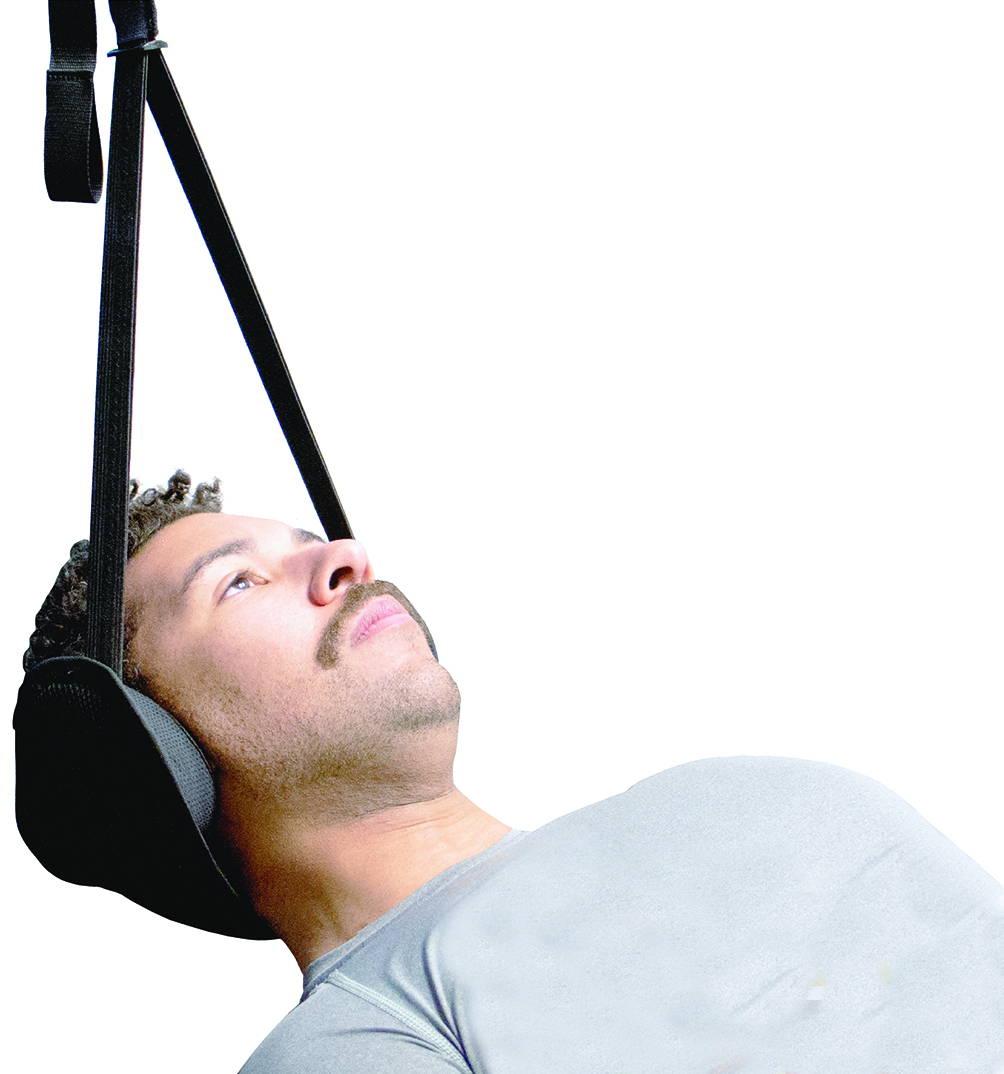 Common Conditions of the CERVICAL SPINE

Cycle through the slides below to familiarize yourself with several common conditions associated with the cervical spine. The conditions described below may not be treated by the specific product listed above. Please view the above Medical Applications Chart to determine what conditions this page's associated product treats.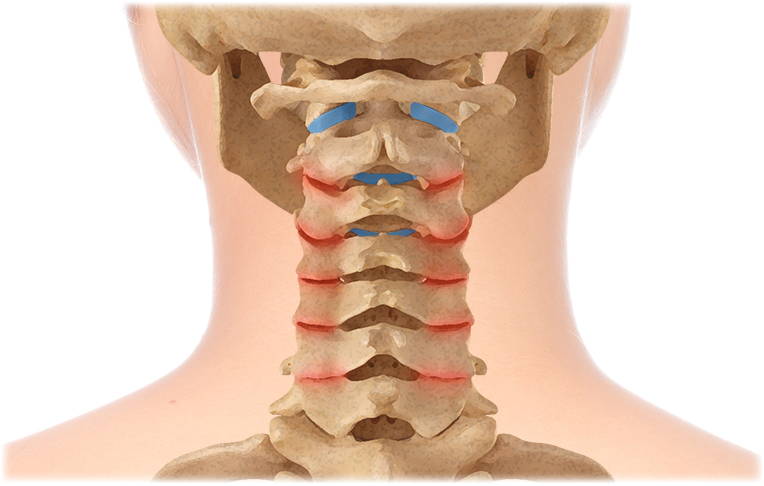 Osteoarthritis (Spondylosis)
Cervical osteoarthritis (OA) is also called cervical spondylosis. This involves changes to the bones, discs and joints of the neck as the result of normal aging. With osteoarthritis (OA) the flexible tissue (cartilage) that cushions the ends of bones wears down. Spurs or abnormal growths on the bones can cause the interior of the spinal column to narrow, causing neck pain and stiffness. Treatments can include medication, physical therapy and the use of a cervical collar.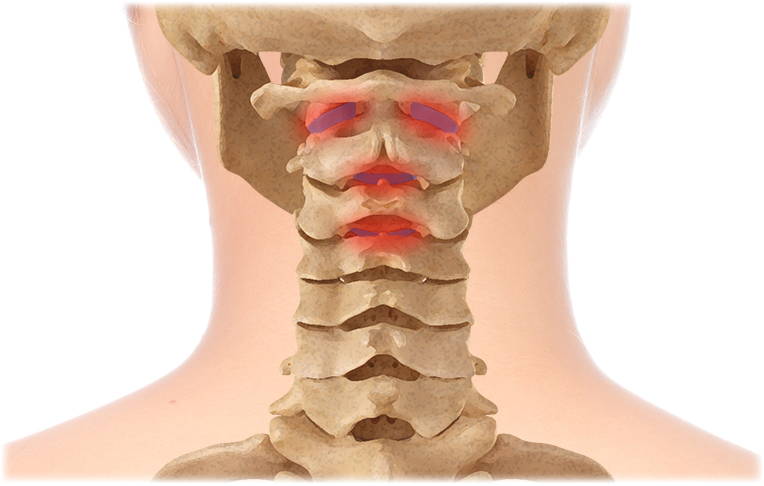 A herniated cervical disc is one of the most common causes of neck pain. Each disc is composed of a gel like interior substance that is surrounded by exterior fibrous cartilage that keeps the gel contained. If the exterior cartilage tears or splits, the interior gel can protrude, or become herniated. This can cause neck pain, numbness or tingling in the shoulder, or weakness in the hand or arm. Treatment methods can include rest, medication, physical therapy and the use of a cervical collar.
Whiplash is a non-medical term used to describe a hyperextension injury to the neck resulting from an indirect force, usually a rear-end automobile collision. The sudden acceleration of the struck vehicle throws the head backward, causing violent hyperextension of the neck. Pain from the injury to the cervical muscles is initially treated by placing the neck in a well fitting cervical collar, applying local heat treatments and administering pain medication.
The Anatomy of the Cervical Spine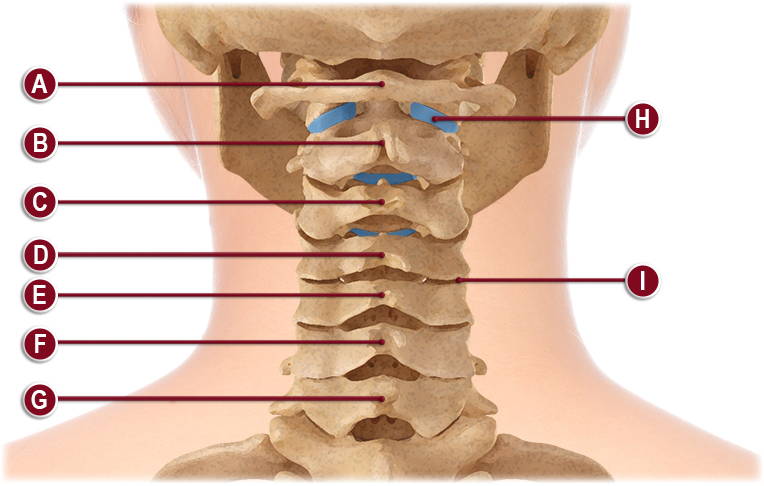 The cervical spine, or neck, begins at the base of the skull and through a series of seven vertebral segments connects to the thoracic, or chest, region of the spine. View the accompanying illustration, in association with the list below, to explore the anatomy of the cervical spine.

A. Atlas (C1 Vertebra)
B. Axis (C2 Vertebra)
C. C3 Vertebra
D. C4 Vertebra
E. C5 Vertebra
F. C6 Vertebra
G. C7 Vertebra
H. Facet Joint (connects each vertebra)
I. Cervical Disc