2091 / HINGED ANKLE STABILIZER
• Promotes natural, unrestricted foot flexion
• Low-profile – fits easily into most laced shoes
• Offers more stability than soft ankle supports
• Perfect for transitioning from a walker boot
• Footplate can be placed under removable insole for additional wearing comfort
• Quick and easy application and removal
• Post-injury rehabilitation of grade I, II, III and high ankle sprains and strains
• Transition from walker boot or cast post-injury, chronic ankle instability following rehabilitation
• To prevent high sprains and abnormal inversion/eversion
• Protection during impact sports.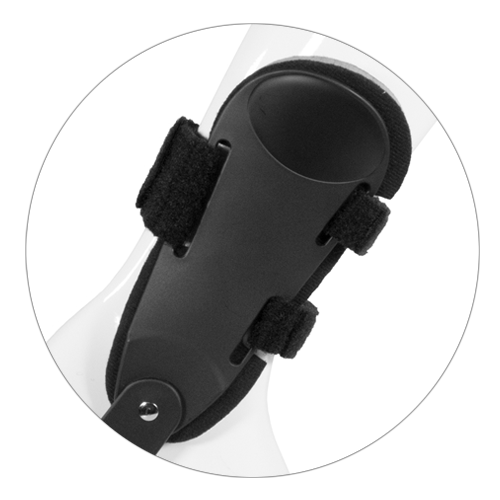 Rigid, light weight uprights offer superiorprotection during impact.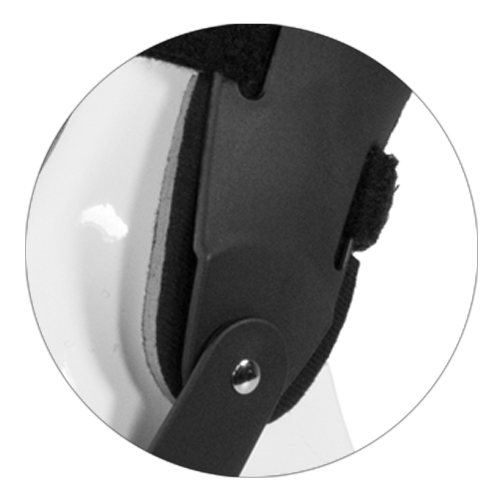 High density foam pads form to ankle tooffer increased comfort.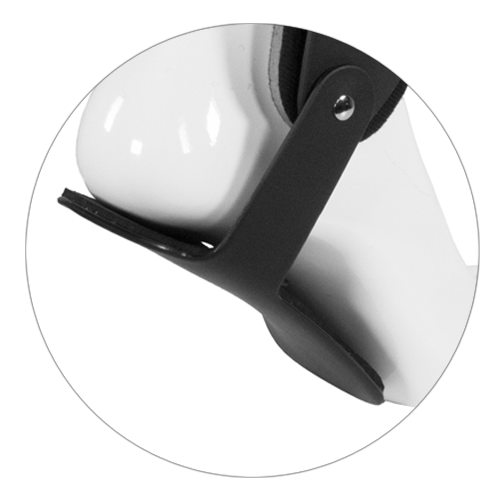 Anatomically contoured footplate providescomfortable arch support
How to Measure for and Apply Ankle Stabilizer
| SIZE | MEN'S SHOE | WOMEN'S SHOE |
| --- | --- | --- |
| X-SMALL | N/A | 4 - 6 |
| SMALL | 4 - 7 | 7 - 9 |
| MEDIUM | 8 - 10 | 10 - 12 |
| LARGE | 11 - 13 | 13 - 15 |
A. Measure based on shoe size.
1. Loosen Velcro straps on stabilizer.
2. Position footplate inside sneaker or lace-up shoe. (Ifshoe has a removable insole, place footplate underit for additional wearing comfort.)
3. Slip foot through stabilizer and into shoe.
4. Adjust and position front and back pads for comfort.
5. Tighten front and back straps to secure.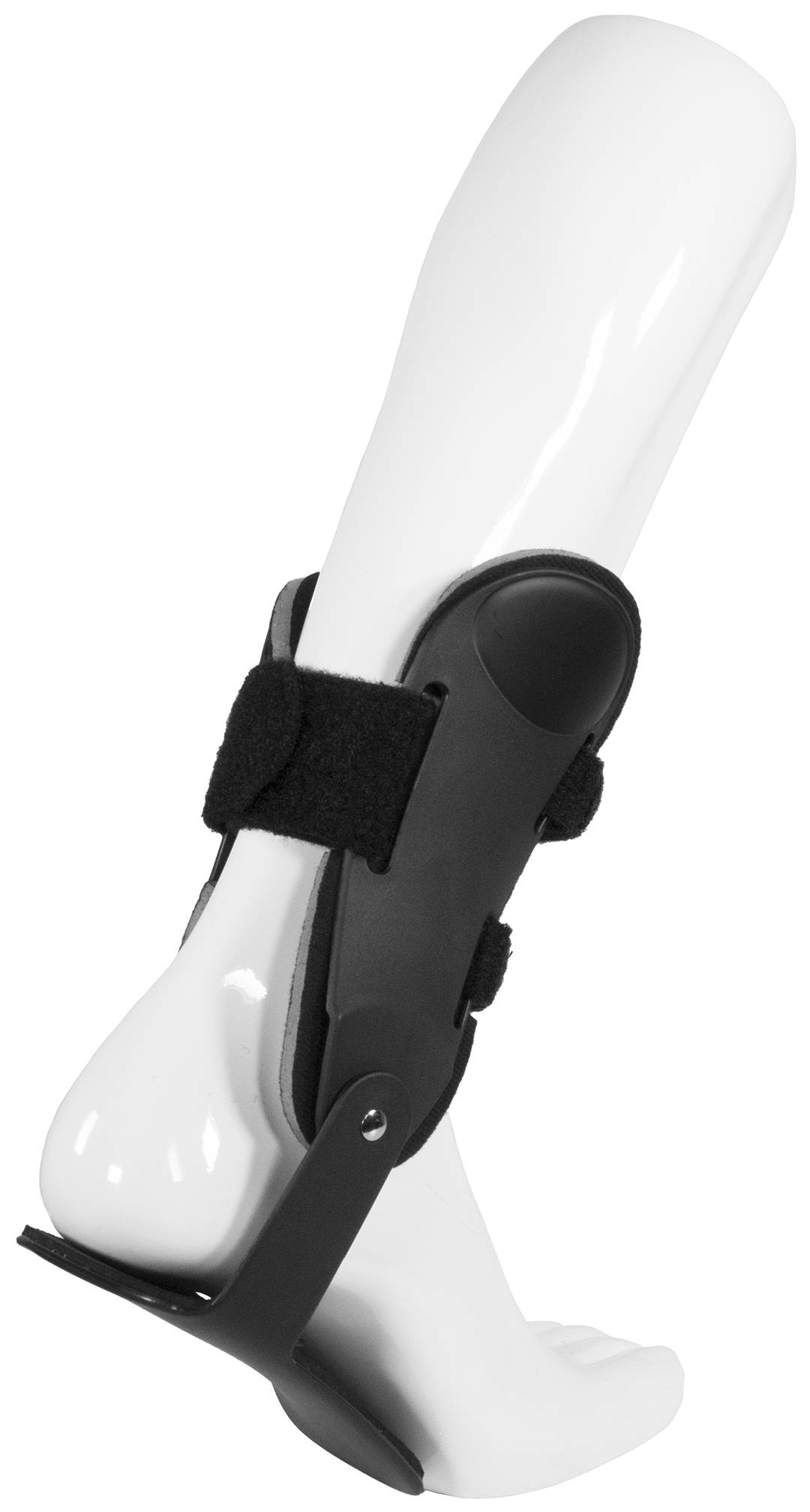 SPRAIN AND STRAIN CONDITIONS

These affect the connective tissues around the joints. Sprains are injuries to ligaments.The injury can be considered mild (slight stretching), moderate (partial tear), or severe(complete tearing). One or more ligaments can be injured in a sprain. The severity of the strain will depend on the extent of injury to a single ligament (whether the tear is partial or complete) and the number of ligaments involved.
Helping the joint to heal is the purpose of ankle bracing. By placing the ankle in a neutral position, the support restricts movement and relieves painful stresses on the various ligaments, tendons and muscles. Further, it aids healing by restricting or limiting the use of the injured part of the extremity.

The conditions shown below may not be treated by the product listed on this page. Please view the above Medical Applications Chart to determine what conditions this page's associated product treats.

A mild strain can occur for a number of reasons, but is most often caused by a person's weight being applied to an ankle that is at an unnatural angle - eversion or inversion - with the ligament or ligament group being stretched or even torn.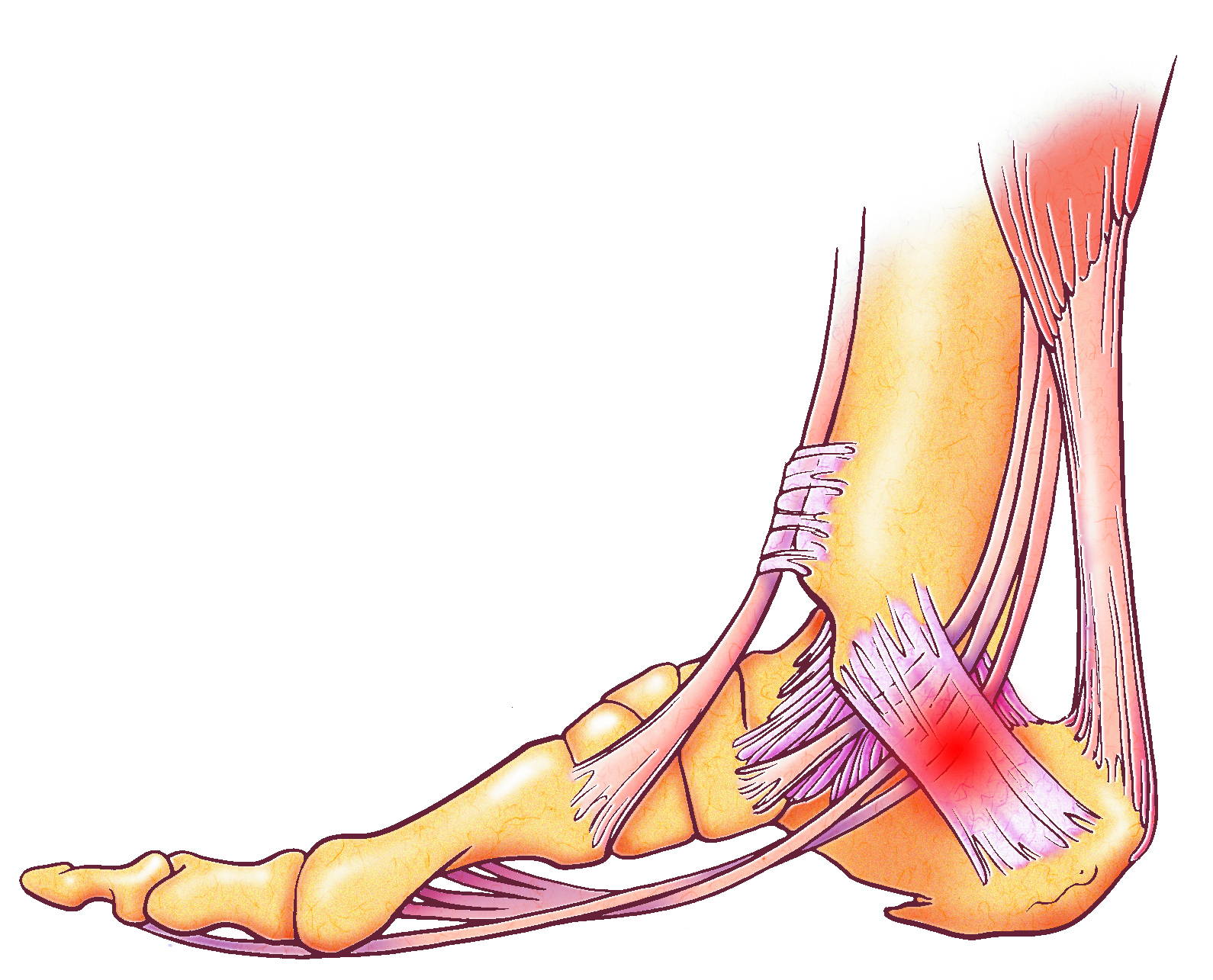 MODERATE & SEVERE SPRAINS
Block copy should read – Sprains are classified as mild, moderate or severe based on the extent of the injury and the number of ligaments involved. A moderate sprain is a slight treating of a ligament or a ligament group, while a severe sprain will always be a complete tear, and usually among a group of ligaments.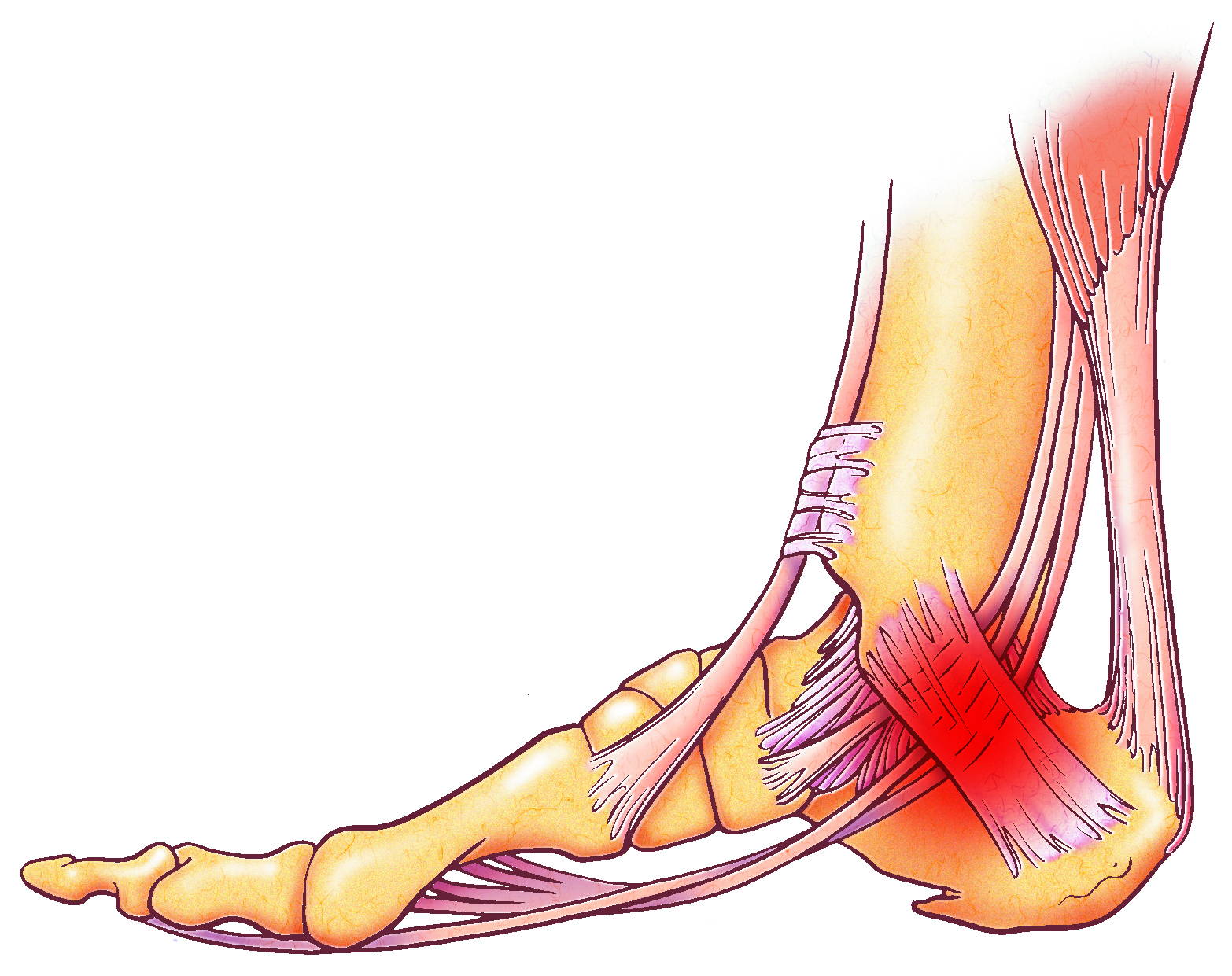 The Achilles tendon is the strongest tendon in the body and is the most often injured, usually as a result of overuse. The Achilles tendon is stretched or relaxed with every ankle movement, which can lead to a prolonged recovery period if the patient becomes too active without the proper use of ankle supports or walking aids such as canes and crutches.
Shown to the right is an image of Achilles tendinitis, which is an inflammation or slight tearing of the tendon.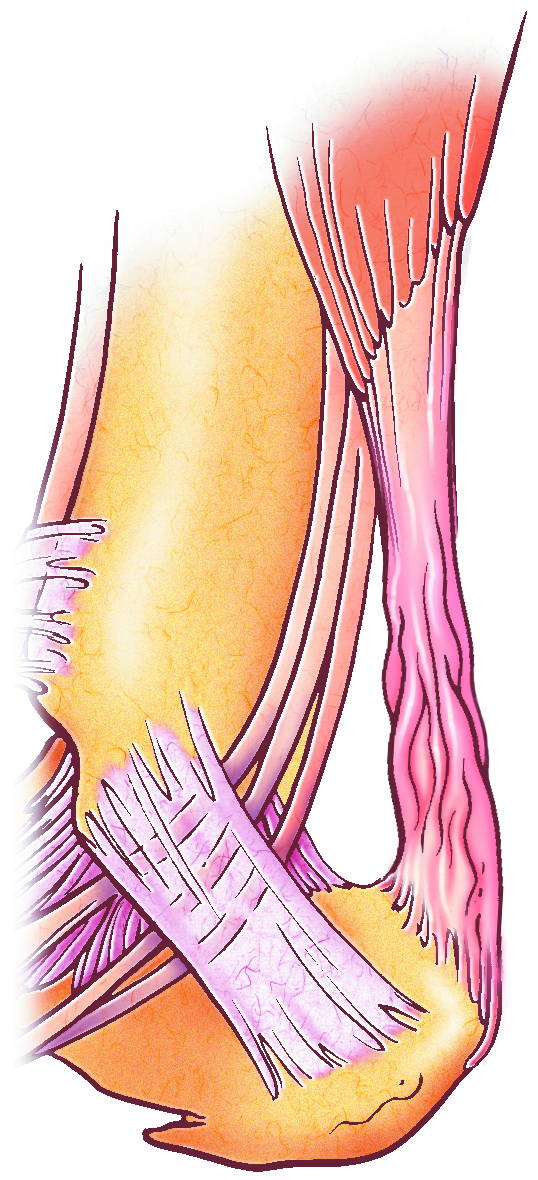 To the right is an image of Achilles rupture, which is a complete tear of the tendon often associated with a "popping" sound when the separation occurs. Treatment for an Achilles rupture includes reattachment surgery followed by total resting of tendon until healed and strengthened through rehabilitation.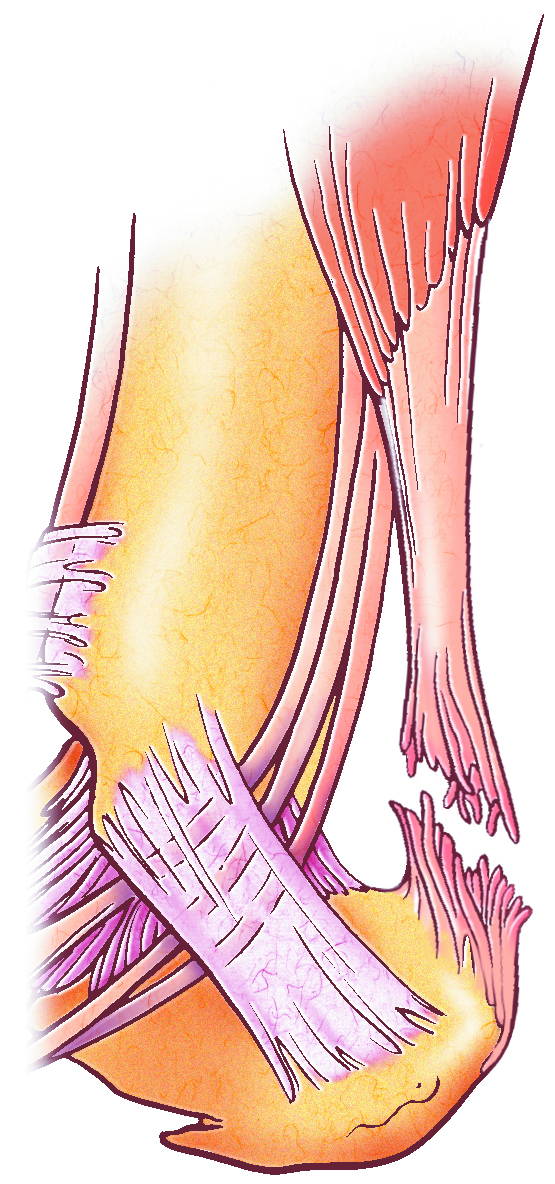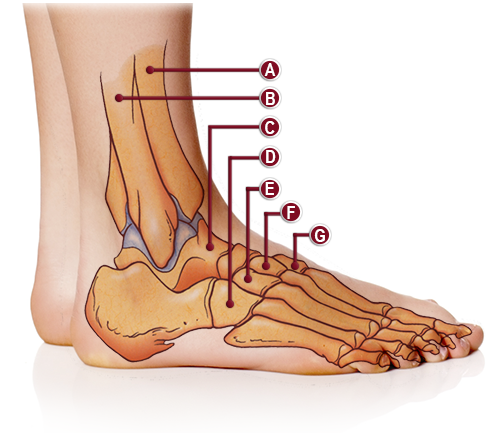 A. Tibia
B. Fibula

C. Talus

D. Cuboid Bone

E. Cuboid Bone

F. Intermediate Cuneiform

G. Medial Cuneiform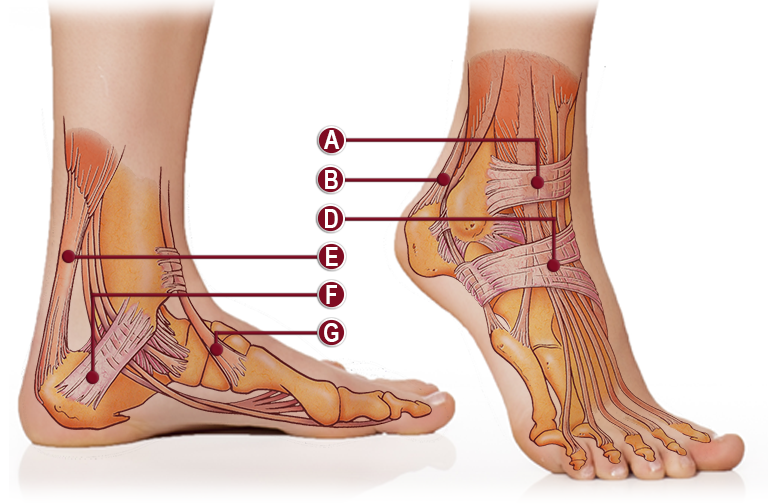 Tendons & Ligaments of the ankle
A. Anterior Talofibular Ligament

B. Achilles Tendon

C. Peroneus Longus Tendon

D. Achilles Tendon

E. Deltoid Ligaments

F. Anterior Tibial Tendon